Ko Chang Sightseeing Tour Packages
Ko Chang ,also Koh Chang is the second largest island of Thailand (largest island in the Ko Chang Marine Park archipelago), located on the Thai east coast 310 km away from Bangkok near the border to Cambodia in the Gulf of Thailand.The name means Elephant Island.
Ko Chang was named for the elephant shape of its headland, although elephants are not indigenous to the island. At present, there are 8 villages in total. It is a mountainous island and Khao Salak Phet is the highest peak of all at 744 metres.
Visitors are also met with several waterfalls, splendid reefs and rainforests. The island has an area of approximately 217 square kilometers. Ko Chang was previously an unsettled island but it is now important as a harbour for ships to escape from the monsoon, and dietary or fresh water resources, especially at Ao Salak Phet or Ao Salat which is well known to pirates, Hai Lam Chinese and Vietnamese.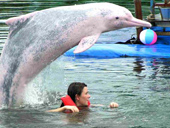 Chantaburi Oasis Sea World
OVERVIEW

Join in

Full Day
Famous for its abundance of tropical fruits and a busy gem trading centre particularly noted for sapphires and rubies, Chantaburi is locally known as the "City of the Moon".
Read More
>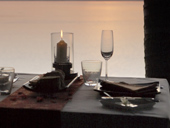 Dinner with fireflies
OVERVIEW

Join in

Evening
In the evening pick up at your hotel and transfer to Aana Resort, beautifully located along the river of Klong Prao. Enjoy the fantastic backdrops of the mountain with a welcome drink. A delicious Thai Dinner will be served under the stars with 1 glass of red/white wine accompanying the food.
Read More
>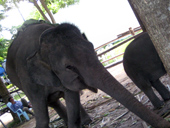 Ko Chang Safari
OVERVIEW

Join in

Full Day
An alternative option to explore the best-preserved National Park. Start off your day with an elephant trekking tour in the undisturbed island rain forest. This is a good opportunity to get to know this friendly creature.
Read More
>